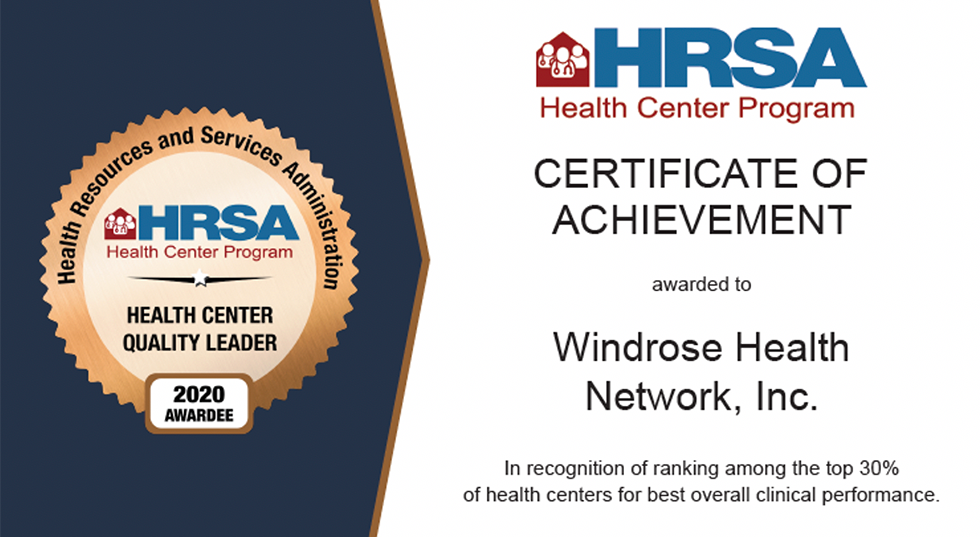 Greenwood, IN - The U.S. Department of Health and Human Services (HHS), through the Health Resources and Services Administration (HRSA), recognized Windrose Health Network (WHN) as a 2020 quality improvement health center awardee. As an HRSA-funded health center, WHN uses these funds to further advance quality improvement initiatives and expand quality integrated primary health care delivery.
WHN provides comprehensive care to people who experience low-income, are uninsured or face other obstacles to access health care. In addition to providing a safety-net of care for vulnerable populations, WHN deployed a dedicated COVID-19 testing mobile unit to advance the detection of the virus. The mobile unit provides testing throughout Marion, Johnson, and Bartholomew counties.
Of the 25 Federally Qualified Health Centers (FQHC) in Indiana, WHN is one of two HRSA 2020 quality improvement awardees. "The rigor we place around quality of care is purposeful and patient-centered. Our patients deserve high-quality healthcare," said CEO, Scott Rollett. "Quality is everyone's responsibility within our organization and we are leading the way."
The HRSA's quality improvement award recognized WHN among the top 30% for highest performing health centers nationwide as well as a health center that made significant quality improvements from the previous year. "Our providers and staff are consistently dedicated to caring for our patients from a holistic viewpoint and to providing the best care we can for each patient," said Laura Pryor, RN, MSN, Chief Quality Officer.
Health centers are recognized for achievements in various areas:
Improving cost-efficient care delivery;
Increasing quality of care;
Reducing health disparities;
Increasing both the number of patients served;
Increasing patients' ability to access comprehensive services;
Advancing the use of health information technology; and
Achieving patient-centered medical home recognition.
For a list of today's award recipients, visit here.
To locate an HRSA-funded health center, visit here.